Upcoming Events
Date

Artist

Time

Friday, May 10th, 2019

Steve Goodie
Doors at 7; music at 7:30.
Pay what you like; suggested donation $10 (All proceeds to artist).
RSVP Press Release
Friday, May the 10th (The last day of UW classes!) 2019: Steve Goodie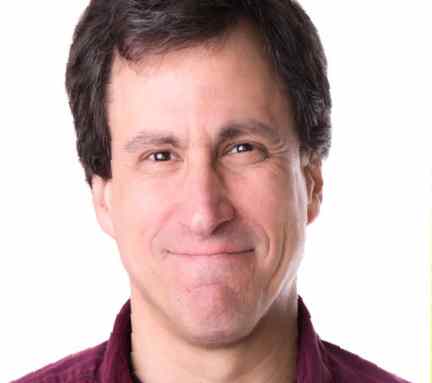 Steve Goodie is known worldwide for his original comedy music and parodies, as well as for being the originator of "Wizard Rock" - songs based on J.K. Rowling's "Harry Potter" books (which, like the books, are not just for kids).

Here are some samples of Steve's work, which ranges from the wise and witty to the wacky:

Tweetin' on a Jet Plane (Parody of "Leavin' on a Jet Plane" by John Denver):
https://www.youtube.com/watch?v=WjJcme13mbU

Dumbledore (Parody of "Hardware Store" by Weird Al Yankovic, whose daughter Nina was quite impressed by it):
https://www.youtube.com/watch?v=IY1-pBi-R_Q

The NASCAR Song (original):
https://www.youtube.com/watch?v=VmiPbNA7EbM

Harry's Wand (Clever 3-minute synopsis of "Harry Potter and the Prisoner of Azkaban," to the tune of "Stacy's Mom" by Fountains of Wayne):
https://www.youtube.com/watch?v=ueFy4Jnz2Fo

More samples of Steve's work can be found on his Web site at http://stevegoodie.com or on the Funny Music Project Web site at http://thefump.com/artist.php?id=31. His songs are also available on iTunes.

Steve is the longstanding host of the famed Open Mic Night at Nashville's Bluebird Cafe, which has launched the careers of many well known singer-songwriters, and has been featured hundreds of times on the Dr. Demento Show (a weekly comedy music show that ran for decades on radio stations nationwide and has now become a podcast). He's also the recipient of a Logan Award for Excellence in Comedy Music. If you like clever comedy music, standup comedy in general, Harry Potter, and/or just seeing tremendously talented musicians, come to see Steve on Friday, May 10th 2019, when Laramie House Concerts will be hosting him in the downtown loft which, appropriately enough, we have dubbed the Room of Requirement. For UW students, this will be the perfect night to celebrate the end of the semester and relax prior to graduation ceremonies!

The show will be rated PG-13 (with some "adult" or humor which may not be suitable for young children) and is expected to be one of our more popular ones, so if you'd like to come please read the section titled How to Attend and then RSVP by clicking on the big button just below.

Doors will open at 7 PM, and the performance will start at 7:30. We'll provide coffee, bottled water, and soft drinks.


About House Concerts
House concerts are a long tradition worldwide; in America, records of them date back to Colonial times. Unlike a performance in a public place such as a bar, coffeehouse, or auditorium, a house concert takes place in a private home or other private space whose owner volunteers to host the event. The setting is more intimate and quieter than a public space, and performances are often preceded by a potluck meal or dessert potluck. Courts have ruled that this activity is protected by the First Amendment and is not subject to requirements for cabaret licenses, or other constraints imposed on commercial activities, so long as the owner is not conducting the event for profit (though the artist can be compensated; this is usually done via a suggested donation). To avoid overcrowding of the space, and to preserve the status of the event as a private gathering, attendees are usually required to RSVP in advance and receive an invitation from the host. (We do this via our Web site or via e-mail.) Guests are expected to act as house guests would, and treat the space with respect, avoid disturbing the neighbors, and conform to the host's restrictions concerning the use of alcohol, civil behavior, etc. A donation per person is usually requested (though not required); in the case of families with children it is generally expected that the requested donation be provided at least for the adult(s). Many house concert venues have been operating for decades and are regular stops on the national tours of talented musicians.
How to Attend
As mentioned above, house concert venues are not establishments that are open to the general public, so most have no "tickets" per se. (Some house concert venues and artists use sites such as Eventbrite to collect suggested donations and count the number of attendees, but these sites take a cut of the proceeds that we would rather give to the artist. So, we do not use them unless the artist requests us to.) In all cases, however, all money goes to the artists, because a house concert is not a commercial music venue; it is a social gathering in a private space. Please RSVP for concerts held by Laramie House Concerts by clicking the RSVP button just below the description of the event. (If you have trouble doing this, please e-mail rsvp@laramiehouseconcerts.com and let us know.) You will receive a prompt response via return e-mail confirming your reservation and giving directions to the venue (and free parking for it) in downtown Laramie. If all else fails, or if you have trouble finding the venue on the day of the performance, you may call or text Brett Glass at 307-761-2895. If you hear about the concert at the last minute and would like to find out if there's space, need accommodations for someone with limited mobility (the space is in a loft 4 flights up but is reachable via a manually operated elevator) or a hearing impairment (we can usually obtain a volunteer sign language translator given sufficient notice), or have questions that are not answered on this page, also call or text Brett at 307-761-2895.

About Us
Laramie House Concerts is a group of local volunteers organized by Brett Glass and Isobel Nichols. Its purpose: to give artists who would normally bypass the small but culturally rich city of Laramie, Wyoming a good place to play, a receptive audience, and a warm welcome. Past concerts have received rave reviews from local journalists as one of the best things to do in Laramie. Most of our events occur in the "Room of Requirement," the music room of our apartment at the top of the Wagner Building (209 East Grand Avenue) in downtown Laramie. The space can comfortably hold an audience of about 45 people -- the perfect size for a house concert. (For larger crowds, we can refer events to other local venues such as the nearby Gryphon Theater, in the Laramie Plains Civic Center, which can seat more than 500 if the balcony is opened.) The Room of Requirement is very "live," with two of the four walls made of bare brick, so performers can often work with little or no amplification. It currently has a small house PA (for when amplification is needed), a few DMX par cans and wash panels for lighting, and a fully functional pump organ generously given to us by the late Mary Maynard. And it will soon (we hope!) have a well tuned Astin-Weight piano -- a unique instrument with long, diagonal bass strings that make the smallish console sound like a baby grand. A "green room" is available for costume changes and warmups. For general information or to contact us, e-mail info@laramiehouseconcerts.com.
Master Singer/Songwriters Small Potatoes performing in the Room of Requirement (Photo: Brett Glass)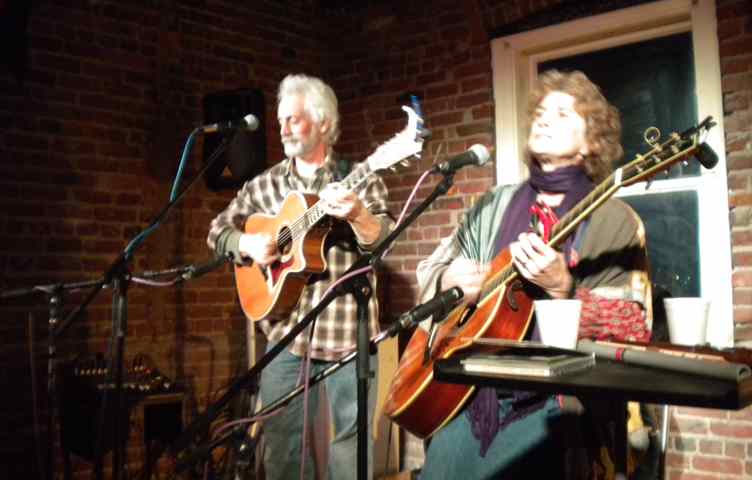 A note about the design of this Web page: To ensure accessibility by the visually impaired and by users with mobile devices, this page has been intentionally kept simple -- with no scripting, CSS, or other "fancy" features which lead to incompatibilities or security issues. While it's not as flashy as many commercial sites, it is compatible with all Web browsers, Internet connections, and search engines.